It's Time to Use Your Power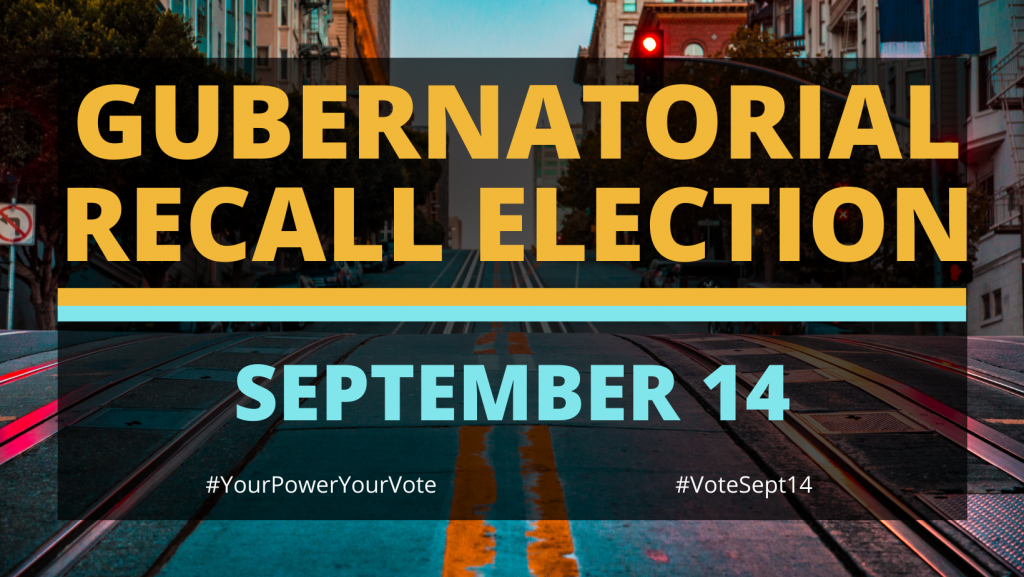 Californians will vote on whether to recall Governor Gavin Newsom on September 14, 2021. A recall is a way for voters to remove an elected official from office through a simple majority vote at any time during their term. California is one of 20 states that permits the recall process, and it has been used successfully in California only once before, in 2003, to recall Governor Gray Davis.
The recall ballot will ask voters only two questions:
(1) Should Gavin Newsom be removed from office?
(2) If Gavin Newsom is removed, who should replace him as governor?
If over 50% of voters vote "yes" on the first question, Gov. Newsom will be removed and the candidate who receives the most votes on the second question will replace him, even if they don't receive a majority of the votes. Regardless of how you vote on the first question, you may — but are not required to — select a candidate from the list of 46 individuals who have entered the race. Governor Newsom is barred from entering the race.
Voter turnout is critical to ensure that the results of the recall election represent all of our communities and this is where you use your power. Help us make sure that all communities are represented in the recall election by sharing the information on this page with your friends, family, and members of your community.
Below are tools and resources California residents can utilize to make sure your community is ready to vote and every voice is heard by the September 14 Gubernatorial Recall Election. Use this page as a guide to make sure you and all members of your community have a plan to vote before ballots get mailed out on August 16, 2021.
Check your voter registration status.
Not sure if your voter registration is up to date? Don't be surprised come election day, take a moment to check your voter registration right now — it only takes two minutes!
Update your voter registration status.
Every registered voter will be receiving a mail ballot for the Gubernatorial Recall Election, make sure your ballot is coming to the correct address by updating your voter registration today.
We're one week from the Gubernatorial Recall Election, and there are more than three million eligible voters in California who aren't registered to vote. Democracy works best when all voices are represented through the vote. Help us register as many potential voters as possible to ensure that the outcome of the recall election reflects the will of all Californians.
New voters can register to vote even after the August 30, 2021 deadline. Voters, in California, can conditionally register and vote after the 15-day voter registration deadline at their voting location. For more information visit the Same Day Voter Registration page on the Secretary of State's website.
There are two circumstances in which you have a right to cast a provisional ballot in an election in California.
First, if you believe you are registered to vote, but your name does not appear on the voter list at a polling location, you can vote provisionally.
Second, if you voted by mail, but the county does not have a record of receiving your vote-by-mail ballot, you can vote provisionally. Any eligible voter, including those displaced by wildfires, can cast a provisional ballot at any polling location in the county, and that ballot will be placed in a special provisional envelope before being put in the ballot box.
Only the races you are eligible to vote in will be counted. A provisional ballot will be counted after county election officials confirm that you are registered to vote and have not already cast a ballot in this election. Any voter who votes provisionally has a right to know whether their provisional ballot was counted. Click here to find the status of your provisional ballot.
How to Vote in the CA Recall Election
Voting by mail? Need to know where to drop-off your ballot?
Click here to get the details on voting in your county.
Sign up for election reminders.
With changes to everyday life happening regularly due to the COVID-19 pandemic, make sure you have the most up to date voting information by signing up for our election reminders program — and while you're at it, don't forget to sign up to be a Courage California Institute member.
Learn more about the recall and how we got here.
Were you unaware, until just now, that an election was even happening this summer? Don't worry, you're not alone. Check out our latest blog that covers what a recall election is and how we got here.
Sign up for the Secretary of States ballot tracker.
Sign up to know when your ballot is in the mail, when it's received, and when it's counted.
Mark your calendar with these key election dates.
Make sure you're aware of the important election dates this summer.
Download graphics to share on your social media.
There may be many people in your network that are unaware that a Gubernatorial Recall Election is happening this summer. Share these graphics on your social media to get the word out so that the results of the recall election represent all of our communities.
Sign up to become a poll worker.
Elections are run by people like you and I. Make sure your local vote center or polling place has enough staff to ensure voting access for all by signing up to be a poll worker today.
Volunteer Opportunities: Courage California Institute's partner organizations are recruiting volunteers for Los Angeles County, Orange County, and many other statewide and regional opportunities. Check out the list below to find an organization you'd like to volunteer for — and let them know that we sent you!
Black Women for Wellness (BWW)
Black Women for Wellness is committed to the health and well-being of Black women and girls through health education, empowerment and advocacy. Interested in joining BWW's recall volunteer efforts? Reach out to Onyenma Obiekea at [email protected]
California Healthy Nail Salon Collaborative
Founded in 2005, the California Healthy Nail Salon Collaborative is a statewide grassroots organization that addresses health, environmental, reproductive justice, and other social issues faced by its low-income, women, Vietnamese immigrant and refugee workforce. Interested in joining CA Healthy Nail Salon Collaborative's recall volunteer efforts? Reach out to: [email protected]
The goal of the Million Voters Project is to transform the California Electorate by mobilizing one million new and infrequent voters to the polls around an agenda of equity and inclusion. We are defending the progress California has made, but also going on the offense to win the bold, meaningful change that Californians deserve. Interested in joing MVPs recall volunteer efforts? Visit the website linked here.